! Web page by Deane Williams>
The beauty and awe of fireworks with music!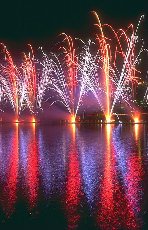 The Connecticut Special Mini-Display
Connecticut has recently legalized use of small sparkling fireworks. Viewing distance requirements are much less than larger fireworks. We are now able to put on a delightful show in a small venue such as a backyard, lakeside, etc. for an impossible price of only $800 (and up). Such a show is electrically fired, would run about 8 to 10 minutes and could be accompanied by music themed to your event. From mild to wild, everyone will appreciate this up-close, small fireworks experience! Price includes everything: setup, wiring of many devices, audio equipment, firing and clean-up.
Home page |
Classic Shows |
Contact Us |
Plan your display |