http://www.geocities.com/chga_1999/index.html
President – Dan Jester,
dan.jester@snet.net
Vice President – Tim Locke,
tlocke02@snet.net
Treasurer – Sharon Roys,
sharon.roys@bauerct.com
Secretary – Mila Jungmann,
milajungmann@snet.net
Site Director – Deane Williams,
deane.Williams@hs.utc.com
Flight Safety – Rick Tenan,
clancy@neuron.uchc.edu
Newsletter Editor – Andrew Fiertek,
n1ylo@home.com
Beer Director – Wayne Ripley,
trx158@aol.com
Minutes, CHGA Meeting
Scribe Mila Jungmann
April 3, 2001
People are certainly getting enthused about flying the new season as this meeting we had a full house. Many discussions were in progress at the start of the meeting involving sites and plans. I have been calling Joe McCoy at aerotowing but so far only got the answering machine. The hotline is (845) 223-1168, we will see. The meeting minutes were brief and at this point some are already obsolete, nevertheless here they are.
A motion was introduced by Dan to keep the duration trophy as is because of a misunderstanding in previous meeting discussion (see March Minutes) where Kevin would get to keep the duration trophy. The previous decision (some years previous) was not changed and the cup will maintain status as perpetual with each recipients name on it as the record is broken. The motion became a non-event.
The gate at Talcott was still closed as of this meeting. (It is now open). Options of obtaining a key and other means of access were discussed. No motions were introduced.
Mount Tom is open again but the LZ stinks. Paraglider pilots are using it and one hang glider mishap was mentioned (blown launch), no details were available and no action on our part was initiated.
Avon Wellness center has a great display of hang glider photos at Talcott (inside upstairs) check them out if you get the chance.
The Hartford Courant ran an article about hang gliding with a picture and poem by an early pilot at Talcott. Some discussion about publicity followed, no action was initiated.
A work-party was scheduled for April 7 at 11:00 am. Details of work to be decided on-site. (subsequently this was cancelled due to flooding). No further plans were made.
A club trip is scheduled for May 7-12 to Foothills Flight Park in North Carolina. Many people will be there, please try to make it.
Andy introduced a motion for a whack tax at the Talcott LZ to raise revenue. No one seconded; no vote was taken.
Scott at Joe McCoy's tandem towing operation will be out of commission for a few months.
Jeff at Morningside may be aerotowing if he gets a pilot lined up.
End of report
Dynamic Soaring Explained
I recently found this interesting web site with detailed illustrations and translated it from German to English (using the Babelfish tool) -- Deane Williams
Albatros Soaring Flight
The Albatros uses vertical wind gradients directly in it's flights over large distances over the sea. The horizontal winds, whose rate changes with the height, are used to make this possible.
Thermal mixing is often missing over the open sea allowing the wind to be slowed near the surface but increase with altitude. By a suitable flight path it can use the difference in the wind velocities directly over the water surface and attain a height of approx. 60 feet.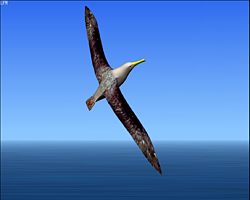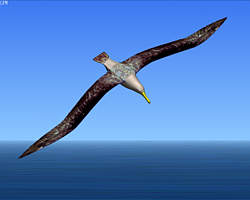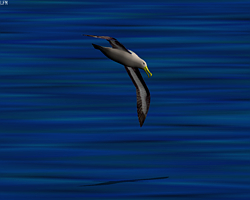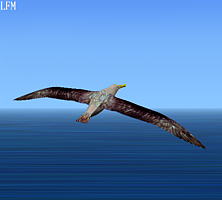 A study of flight dynamics and control with the intent of finding the optimal flight mechanics was made.
Albatros flight paths were simulated by computer for the maximization of the energy transfer. The flight path results are specified in the lower picture. In the upper curve of a such flight path an energy gain is obtained (green indicated) and in the lower curve (red indicated) a loss takes place. Depending upon wind profile and flight path direction energy-balanced
courses or courses with energy gain result.
The bird is capable by means of dynamic soaring of traveling very far distances with minimum energy expenditure. Air routes with a length of more than 1000 km. have been determined by satellite measurements.
Manned Glider Dynamic Soaring
A study of the flight dynamics and flight control, with the aim of finding the optimal path of glider, was calculated. The maximum energy gain from a altitude-variable horizontal wind field (wind shear) is obtained. In the following diagrams, such an optimized flight path is shown. The green and red areas of the course represent areas with energy gain or loss.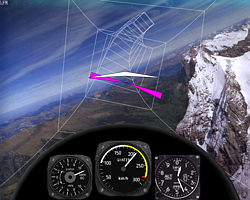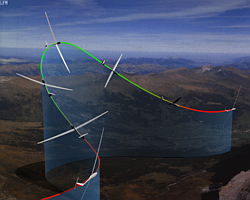 Additionally a special display form for the cockpit instrumentation was conceived, which is inserted as a Head-Up display into the field of vision of the pilot to make it easier for the pilot to fly the glider on this path.
Further research concerns problems of the measurement of wind fields, which can result from different meteorological effects. Beyond that questions of the flying paths are treated and relevant experiments (simulation experiments and flight tests) are executed.
Energy-neutral flight path for minimum wind gradients: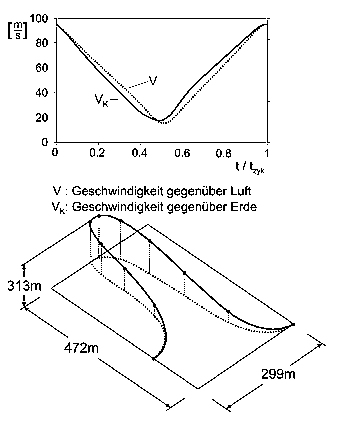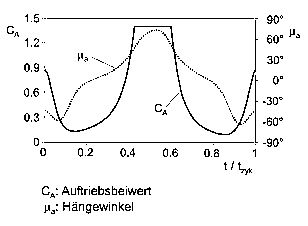 Cracking the 100 mile Barrier at Ellenville

Deane Williams

S

ince July 11, 1985 the longest flight from Ellenville was Tom Nejame's 98.5 miler on his Fledge III ET. George Weigle had flown with him on his Comet II and shared the title with him. This is a long time for a record to stand. Since the advent of the carbon-fiber folding rigid wings we have been trying hard to exceed this mark. Although the Millennium is a great XC glider it is still no sailplane. I had 6 flights last year in which I flew less than 18 miles. On one flight I even left the mountain with 7500 feet and only made it 13 miles to Wallkill.

On Wednesday, April 18, I studied the weather info for the following day. A low had brushed by to our south and was moving up into Nova Scotia pulling down some very cold air behind it. Yet, strong April sunshine was predicted to prevail on Thursday. Winds were to be NW 10 to 15 mph but all forecasts showed them turning more westerly as the day progressed. This is a very desirable situation at Ellenville because it allows an easterly XC track, keeping the pilot away from running into Long Island sound. Also it takes you into the high ground of Connecticut, which provides a better likelihood of finding thermals. Several pilots have noticed how much better the lift is once you climb into the hills on the east side of the Hudson River valley. Rich Parzoch scouted this route in his airplane a few years ago and even noticed it then. Conversely, the Hudson Valley is known to be a real sinkhole. It is often quite difficult to cross this 30-mile wide flatland.

The weather also showed that it was to be very cold aloft, about 20 degrees F. at 6000 feet…. Not good for comfort but providing an excellent lapse rate. Ground temp highs were predicted in the lower 50's. I have been frustrated over the years by our necessity to get on the road to a distant flying site before the upper air radiosonde (balloon) data is posted on the Internet at about 9:30 AM. But this year we have a new tool. NOAA has come up with the MAPS system (http://maps.fsl.noaa.gov/) in which a computer takes data from many different sources; aircraft, radar sounders, etc. and predicts an atmospheric temperature/moisture profile and winds aloft for any point in the US on a 20 km. grid.

On Thursday morning this data told me that cloud base would be around 6500 feet, WNW winds and there was a very low chance of over development. I was encouraged but could not find anyone to go with. My wife, Donna, could not go. I called Brownie, who always seems to get away (nice to be your own boss), and he said he and Bruce were going. Good. Someone would be there to fly with. I really wanted to fly because I had not flown since last October! It was a long, snowy winter, as you all know. On the way to Ellenville I began to have my doubts there would be any cumulus. On some days the high pressure seems to approach from the southwest faster than we think it will and we get a blue-sky day and no solid lift. I noticed that the wind forecast had been dropped to only 10 mph. Suddenly I came around a corner on I-84 and there were 2 nice cumulus building at 9:30 AM and then I had much more faith it would be a good day.

Arriving at the mountain at 11 AM I was the first one there. By the time I was setup about 8 pilots had arrived, mostly the regulars: JJ, Scott, Ben, Peter, Bruce, Brownie and others.

I put on lots of heavy clothes but forgot my hand warmers. I waited for the west wind to cycle into the NW briefly and launched around 1:10 PM. The air was fairly smooth and I quickly thermaled up about 2K and moved north to where better clouds were. Clouds looked good over the back. When I was at launch I had tucked my sunglasses into the undersurface while hastily looking for a place to put them. Suddenly at 3000 feet they fell out of an access hole and right into my lap. I grabbed them quickly before they blew away and tucked them safely in a pocket on my flight suit. Almost lost them. After several partial climbs in the area over Ellenville I finally found a nice thermal to 7500 and made the big commitment to go XC. Switching on my GPS at 1:55, I headed east to the first cloud on the other side of the mountain above the large white cliffs. On the way there I sunk like a stone and wondered if I had just talked myself into another short XC. But as I arrived under the cloud (with only 4K) I was rewarded with the best thermal of the day. This beauty was smooth and showed 1100 fpm on the averager. Wow, was it going to be like this today? I topped out at 8300 just a bit short of base (much higher than predicted) and wow was it cold! I usually fly with a digital thermometer but I had forgotten it today. Probably a good thing. It would have made me feel colder. I estimate from the lapse rate that the temperature was about 9 degrees F. at this level!

Leaving the thermal I got a nice big negative whack and my antenna cable fell out of my radio. No problem, I've got no one to talk to today anyway. I noticed that my drift in the last thermal was from the west. Great! I pointed towards Poughkeepsie and speeded up to get out of the incredible 900 fpm sink between thermals. One more climb over I-87 and I was gliding over the city. Lots of clouds here but none were giving up much lift. They all seemed to be decaying. I kept moving and sinking. Uh, oh. Down to 3000 over the Taconic Parkway and sinking fast. I headed towards a gravel pit at the base of a small mountain. There were no leaves on the trees and the entire south side of the mountain was bathed in that strong Spring sunlight. Beeeeeeeeep, YES! Back up to the cold upper reaches of the atmosphere at 500 fpm. I headed east to the route 22 valley and saw the launch at Leather Hill. I crossed the valley just north of Leather while circling in moderate lift and headed for a nice firm cloud on the other side. As I arrived the cloud gave up a thousand feet of climb but then petered out. So often you spot a nice firm cloud while climbing but by the time you get there it is spent.

I took a generally easterly course but zigzagged to either side to reach likely clouds. My altitude was between 4500 and 8200. I crossed south of Lake Waramaug in New Preston, CT and then right over Bantam Lake. Soon I recognized Thomaston and could see Hartford in the distance. The cold was really starting to get to me now. My hands were not too bad; I often balled up my fingers to keep them warm. But my toes were starting to become immobile no matter how much I tried to wiggle them. I wiggled my ankles to keep blood circulating in the area.

My new Pete Pfeiffer-style face mask was doing a great job of keeping my face warm but would ice up when I went over 7000 feet. I need a heater for it!

As I flew over Bristol I thought how different this city looks from the air. Now nearing Farmington, I could look ahead and see Tunxis College, right near my house. I thought it would be cool to fly right over it but when I neared it I had to veer a few miles south to reach another cloud. I checked the time and it was 4:05. Still lots of cus' everywhere but I needed to press on to crack 100. While over New Britain I got down to 3500 feet and had to work very light lift for some time. It was then that I heard Andy Fiertek on the radio. He was at his home in New Britain. I talked with him briefly and let him know where I was. It was amazing that we communicated when I had no antenna whatsoever. But I lost him very quickly. One more short thermal over Rocky Hill and then I crossed the Connecticut River towards a nice big cloud. I got back up to 8000 here and knew I could glide 100 from here. Cool!

I kept working lift but by now it was considerably weaker and the climbs were slow. The intense cold was really taking a big bite out of my energy level now and I had to concentrate on everything I did. With each climb I topped out lower and lower as the sun sunk lower in the west. I used the GPS map to check my direction of flight and where I was because I have not traveled much in this area of Connecticut. I could see the Long Island Sound quite easily here to my south. Eventually the map showed I was nearing I-395 and I was down in the 2000 MSL altitude range. I saw two farms in the distance and to the east of them was a huge area of trees about 5 miles wide. This turned out to be the Patchoug State Forest. I could go no further unless I found a significant thermal to climb out in but all there was were weak burbles.

At 1000 feet I choose the eastern-most farm and boxed it to check the wind (moderate WNW). I did a good landing at 5:41 PM and just sat there for a few minutes contemplating the flight and warming up. I anxiously checked the distance on the GPS. 129 miles from Ellenville. WOW! I was psyched! Even my toes felt better. Soon the field's owner, John Minta, came out to see what was going on and let me know I had landed in the eastern part of Jewitt City, CT. I called my son Greg on the cell phone and within an hour and a half he had put the racks on my old Celica and found me just after dark. Nice job, Greg! John Minta was kind enough to keep me company while we waited in his (warm) pickup truck watching the deer come out into the field at dusk.

Back at home Donna had been phoning a few pilots to let them know but they were all out having an evening flight at Talcott Mountain and had heard I was on a long XC because Andy had told them via the 2 meter radio.

We got home about 10:15, tucked the wing into the garage and had some supper.

The next morning my father helped me out by driving me over to Ellenville to retrieve my car.

Thanks, Dad!

It's an especially gratifying event when you plan and dream about something for a long time and finally it comes to be. This flight is an Ellenville record and my personal best, beating my 115-mile flight on my HP-AT in the Owens Valley. While looking at the maps I realized it was about the same distance from Mount Ascutney to Jewett City as it was from Ellenville. That's a different way to look at it.

I had been saving a bottle of champagne with "100 miles in the Northeast" painted on it for several years and on Friday night we opened it up and had a little celebration.

In closing I'd like to thank Dave Perry, SNYHGPA and the CHGA for providing awards for XC flights.

XC is too much of a Great Adventure for any pilot to miss out on. I strongly encourage all pilots to become involved in this wonderful facet of our sport, no matter what you fly.

Finally thanks to my wife, Donna, who has been very supportive and uses her excellent sense of direction to find me on many of these flying adventures.

GPS Track Log of 129-mile flight, April 19, 2001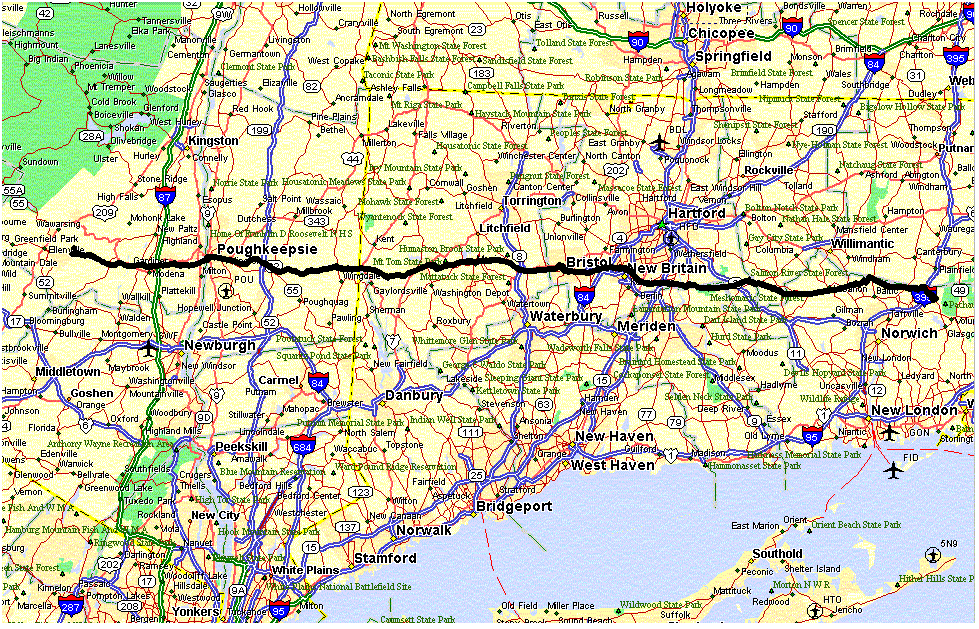 The Mill and Me

Photo by Donna Williams
Congratulations Deane!