The Yankee E-Flyer
http://www.geocities.com/chga_1999/index.html
President – Dan Jester,
dan.jester@snet.net
Vice President – Tim Locke,
tlocke02@snet.net
Treasurer – Sharon Roys,
sharon.roys@bauerct.com
Secretary – Mila Jungmann,
milajungmann@snet.net
Site Director – Deane Williams,
deane.williams@hs.utc.com
Flight Safety – Rick Tenan,
clancy@neuron.uchc.edu
Newsletter Editor – Andrew Fiertek,
n1ylo@home.com
Beer Director – Wayne Ripley,
trx158@aol.com
Minutes, CHGA Meeting
Scribe Mila Jungmann
June 5, 2001
The meeting began with a discussion about a 4-hour time slot at 89.9 WPKN in Bridgeport. The Radio station is willing to do a program about hang gliding and will require 3 volunteers. Ian will send out an Email with possible times so people can co-ordinate together for the most convenient time and date to do the show. I am sure most of us would be happy to promote the sport.
The Treasury report gives us $537 for expenses and $2090 in the aerotow fund. Furthermore Sharon contacted Pickin' Patch who agreed to cut the field for about $250 as usual (do the math).
Dan gave his president's report and said he would talk to aerotow members about siphoning money into a grass cutting system (see May minutes). The mower discussed in previous meetings had been sold, but appeared to be unsatisfactory anyhow. In the ensuing discussion Dean mentioned he would talk to Ben about the use of a sickle bar mower. I do not know the details. Dean also asks members to search classifieds and internet for a suitable mower.
Segueing into the site report, Dean found a potential site near Ridgefield, CT. He will need bodies to scout it; apparently it is already used by paragliders but would be better suited for hang gliders. Dean also brought a sampler of Talcott photos for reprint they were truly amazing (they looked better than the real thing). Contact Dean for more info.
A discussion about the woodchips that need to be replenished on Talcott launch turned out favorably. Rick has access to a truck and we hypothesize a tree service in the area would be happy to give us woodchips. Any independent action is appreciated, if you know any tree removal service nearby please call and inquire. Feel free to contact me to co-ordinate (see e-mail at top or phone (203) 269-2101).
A general discussion followed, No motions were introduced, and NO votes were taken.
End of report.

Early Season Boners

June 9 and 10 of 2001 was the first decent flyable weekend for many pilots. Most of the core CHGA members showed up at Morningside, as did a large number of pilots from all over the region. Most people had flown a couple times already this season but the winter had been long and the spring was not generous. I like most people there, was rusty and intended to do a little training. The air was unstable Saturday and the wind speed was about 10 knots NW switching in cycles from N to W gusting to 20 knots. The idiosyncrasies of the hill made landing tricky since the LZ was generating lift and the cherry on top was the large number of gliders parked at the bottom directly in the approach path. Traffic was heavy on the 450 and there were many beginners on the 150 too.

Sunday a front passed leaving a blue hole over the valley with cloud streets on either side with copious amounts of sink allover the place. The wind was mostly West 10 to 15 knots and mild after the front passed. There was some ridge lift though and some people got 30 minutes over the hill.

The carnage this weekend was the worst I had ever seen there. Saturday there was a broken leg on landing, a blown launch involving trees and an air-to-ground collision. Sunday there was a failure-to-hook-in with a flying trapeze save and a hard landing off the 450. The most disconcerting thing though was the near misses.

I was set up on the 450 Saturday and since I hate crowds I parked my glider and did the one-man wire crew routine. The problem was, people were gluttonously rushing to suit up and self-launch in conditions that really required assistance. I prevented at least 3 gliders from flipping over in surprise gusts. As I moved people to launch I performed hang-checks. To my horror, every third person had a critical rigging hazard. Three people did not have their side buckles fastened, one was hooked into the secondary loop only and one was not hooked in at all. Several people did not secure helmets or parachute bridles and instruments were not on. During the 2 hours of my launching people there were two nearly blown launches; one involved a strong North gust turning the pilot dangerously close to branches and the second (I suspect) a downdraft. The second pilot launched and dove below the ramp where I heard him scraping his base bar and belly in the weeds, he finally managed to stabilize and narrowly miss the ledge in front of the ramp.

I am very relieved that no one was seriously hurt this weekend but while breaking down Saturday I realized I had pulled a boner myself! I had not done a complete preflight. I got sidetracked talking with someone and never finished. So the moral of the story is " checking equipment keeps tubing straight."

My other thought is that maybe self-launching is a bad idea in any conditions.

"New England Aerosports"

Aerotowing at Morningside Flight Park

Many Connecticut pilots drove to New Hampshire on June 9th and 10th to aerotow at Morningside. I went up once Saturday and twice Sunday, Andy went up twice Saturday and Sunday. My impressions were overall favorable. I towed up behind Les in the Flightstar-SC and had an excellent tow. The speed was just right and Les made smooth gradual turns. I had a previous bad experience with another Flightstar tow that went too fast but that did not happen here at all. I also towed up behind John in turbulent conditions with the Dragonfly and that went very well too. Both pilots were excellent and the crew was helpful and on the ball. The planes and dollies seem to be in good repair and I did not have to wait around too long to get towed.

One problem was the landing strip is narrow so there was some congestion in maneuvering gliders and planes around. I noticed this operation is a financial venture, keep in mind they have higher expenses than locally based operators. The cost is $20 per tow and a daily land use fee of $5. They also charge $10 if you brake or pin off below the 2500ft tow altitude. They are considering a club discount program in the future. They offer rating instruction and sign-off (I don't know the details) as well as tandem tows. There is a waiver to sign and that's all there is to it.

This operation offers all aspects of aerotowing. The pilots and ground crew are pleasant to deal with and friendly to talk to. They were focused on safety and I have no reservations about recommending their services to anyone interested in towing.

New England Aerosports

Jonathan Benson, Owner and Tug Pilot

(603) 860-8750

Bob McFee & Carey Loyd, Tug Pilots

(both from Wallaby Ranch)

Towing 7 days a week, weather permitting

!

Fees and Accessories

Tow (solo) - $20.00

Daily Airport Use - $5.00 or (Seasonal - $100.00)

Spectra "V" Bridals w/Weak Links - $10.00

Bicycle Release - $140.00

Secondary (Barrel) Release - $20.00

What's New
NEW CHGA CLUB TRIP July 8 -14, 2001
Wayne is putting together a trip to Mount Yamaska in Canada. This is a nice multi-faced mountain with roads to all launches in a very scenic area. It is only a 6-hour drive. They also have a tug and charge only $10 a tow. Lessons are available there too. Please contact Wayne Ripley at trx158@aol.com or 860-633-4611 for more info.

Here is some info on where to stay near Yamaska. The nearest town is Granby. The web site is http://www.tourisme.granby.qc.ca

If you go to Lodging the last 3 motels in the list are reasonable. I think we stayed at Motel les Pins last time we were there. Motel Bonsoir is just down the street.

The numbers are:
Motel Bonsoir 888-311-7947
Motel LeMirador 888-699-7722
Motel Les Pins 450-378-0793

U.S.H.G.A Business Band


151.625 U.S.H.G.A
151.925 U.S.H.G.A
151.955 U.S.H.G.A

U.S.H.G.A has two new frequencies (listed below) radio frequencies as of March 2001 and our new call sign is WPRY420
151.505 U.S.H.G.A
158.400 U.S.H.G.A

My First 100-Miler!

June 10, 2001 Ellenville, NY

Tom told me I had to post this so I hope someone wants to hear it.

Sunday at noon I took off and noticed a paraglider collapse, I wish him a speedy recovery. When the rescuers got to him, Tom was at 7200 and moving towards an XC departure. I told him I was 4300 and would start out after him ASAP. At 6600 I spotted him downwind and took the shortest root towards him, through a small hole despite Tom's warning. Got lucky and found a decent thermal and watched as Tom flew away. The chase was on, nothing I did could get me closer but I didn't lose either. At the river I made 8000 but Tom was relentless and I had to push. By the time I got past Dutchess County, Tom was at Blueberry Hill and I was at 6900. I made my run and got lucky again only losing 1000 feet getting to the 22 valley, but what a crab angle from the north. A good thermal waited at Rt.22 for me and back to 7000 I went. As I approached Sherman, I found a 1000 ft/min hole and raced toward Candlelight to escape it. Tom was near Brookfield, South of my location and had radioed telling me he was pushing north so we could pass Waterbury to the North. This is where we met up, just north of Goodhill Airport. Back at almost 8000 we headed east stopping only for a thermal here and there. Just east of Meriden Mountain, Tom found light lift and was able to get to 7000 and make a run for the Connecticut River, Tom hot on my trail. Tom announced 95 miles out and I started looking for that 100-mile barrier. Just past the river we spotted that barrier with a Millennium-shaped hole in her and figured we would squeeze through. I was exhausted and shivering from the cold, 36 degrees and 7600 just before Meriden. Tom bested me and got over 7000 past the barrier and out he ran looking for a landable fields since it was approaching 5 p.m. One last thermal and he landed just south of Windham Airport; I got there with 4300 and looked hard at my options. Tom encouraged me to push on except we were in a huge Blue Hole with the surrounding clouds dissipating. Discretion being the better put of valor I joined Tom at 107 miles a little after 5 p.m.

Thanks to my wife, Lynn and Jackie Nejame for the retrieves.

Pete Pfeiffer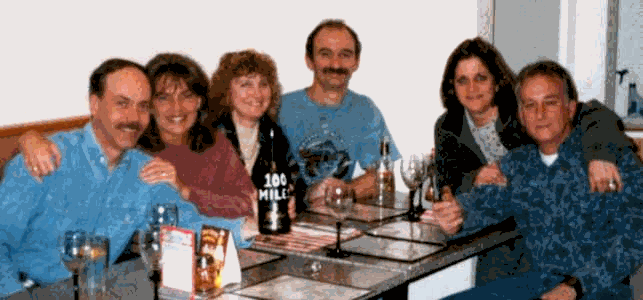 Celebrating with a bottle of champagne "100 Miles In The NE" painted on it after Deane William's 129-mile flight from Ellenville, NY to Jewett City, CT on April 19, 2001.
Morningside NH to Connecticut
Saturday, June 9, 2001
Several Connecticut pilots had planned to go up to Morningside to give moral support to John Hamelin who is learning an additional skill, prone flying, to see if he can improve the glide on his Exxtacy. Checking the weather that morning I saw that this was going to be an exceptional soaring day with a fantastic thermal index of –4 or lower right up to 9000 feet. Taking along Donna and my son, Doug, as navigator was vital. We picked up Mark Herman who was also intent on some XC. Arriving a bit late at noon the sky looked like a picture from out west, with huge cu's lined up in streets from the NNW.
The new towing operation was running but the Dragonfly was missing a prop after the pilot had whacked it against the tail boom while doing aerobatics. Les was towing in her trusty Flight Star. George Ferris went before me and easily climbed to base. I got off about 1:35 and Les waved me off at 2100 AGL in a nice 400 fpm thermal. After a few false starts I finally got near cloudbase at 8100. Good enough to go so I left Morningside in a quartering tailwind and headed straight south down the CT river valley. The sink was intense and I flew at 55 mph to get through it as fast as possible. But the area was huge and I was down to 3K under some nice looking clouds before it eased. I searched around over Walpole, NH for lift but found none and committed to landing at a small grass airstrip. On the way to it at about 1200 AGL I found a smooth little thermal and gained 2K. I continued searching all around the town for the next half hour not finding a solid way out. But at last it arrived and as I climbed through 4K I saw an ATOS flying to thermal near me. It was Dennis Cavagnaro who had launched at Ascutney. We topped out together and he took a more easterly track going south. But we hooked up again in the next thermal over Spofford Lake, a large bright blue jewel in southern NH. Sink was still intense but the next thermal over Hinsdale was worth it as I powered up to base at 1000 fpm in smooth lift. At 9400 msl the temp was a cool 28 degrees!
Next stop was Greenfield, Mass. where I managed only a slow climb north of Deerfield Mtn. Gliding south across the great flat plains of central Mass. I was struck by how huge and remote the Quabbin reservoir is. All trees and water for miles. To make it worse a massive cloud street headed right over the middle of it to tempt me. Not feeling lucky, I headed for a small "city" in the middle of the flatness. This turned out to be UMASS at Amherst. I got down to 1000 AGL just before finding some lift north of the campus. I drifted over the high-rise buildings there hoping for lift. It was there but was weak. I wasted another half hour climbing out and drifting SE. There were few clouds here. At last I had enough altitude to head for a cloud over the east end of the Holyoke Range (Skinner's Peak is on the west end.) But the cloud was spent but I continued on finding good lift about 2 miles past it. I skirted to the east of Westover airbase watching for those huge cargo jets. As I arrived over east Springfield I found one last thermal and climbed to 6100 msl at 300 fpm. From there I glided into CT positioning myself between some nice brown fields and clouds overhead. But, alas, I found nothing and landed in a pasture at a small farm in Somers, CT at 6:15. The GPS showed 94-miles which is apparently the new site record for the Morningside Tow Park. Dennis must have found a better track and was able to stay up an hour and 25 minutes more than me to grab his 122-mile flight.
Thanks to Donna and Doug who were there 20 minutes after I landed. They had a great day taking a leisurely drive south on scenic route 12 while looking for Mark who had a fun 50-mile flight on his 2nd tow. He made it into Massachusetts. George landed in Stow, Mass. at an airport that sells Air Creation trikes. He reported seeing lots of "hang gliders" on the ground. Ted Hassenfaus made it 101 miles from Ascutney and lots of other pilots from there landed near the 80-mile mark. They crossed large un-landable areas of trees on that track towards Boston.
It was a great summer day! We met up with Rick, Bridget, Dan, Sharon and Mark for dinner at the same exit I had landed near!
Next time join us for some fun XC flying.
122.1 MILES, A NEW ENGLAND RECORD!
By Dennis Cavagnaro
"Denny you have to have a plan"
…Steve Arndt preaching the concept of strategy to a frustrated Dennis Cavagnaro after a too short XC flight
"STAY HIGH!"
…Ted Hasenfus response to Jeff Bernard's nervous cry on the radio "Hey Teddy What do I do?" …After topping out in a thermal at Monadnock and not seeing any landing areas for miles.
"Miles is minutes, err Minutes is miles… whatever!"
…The infamous Rich Williams, a former local pilot pontificating after drinking too many beers at the 1995 Chelan Nationals about flying quickly in the peak of the day.
All three of these fine pieces of wisdom came into play during my assault on Randy Adam's 11-year-old hang gliding mark. Indeed, if you have ever had the pleasure of flying with Randy, you saw him incorporating these principals, as well as his genius ability to judge clouds and thermal the best cores. Randy didn't spend a lot of time looking on the ground for available landing areas because he figured he "wasn't landing". And most of the time he didn't until the day was over.
It started with the perfect day. The right day is very important, especially in NE. For most of my flying life I have been saddled with weekend only opportunities, and this is very restrictive to going long. The great thing about June 9th weather was it fell on a weekend and allowed many of us this rare peek at good XC conditions.
I woke up that morning and clicked on my computer screen to the thermal forecast. My jaw dropped as I cleared the sand from my eyes and saw the numbers. It was going to be an epic day! So I threw my Hang Gliding gear into the van and smoked the tires down the road. I past Lee, a flying buddy on the way and he pulled over to talk; but I ran over, put the forecast page in his face and said "get to the mountain man, big time air".
I got to the top of the hill blasting my Littlefeat "Let it Roll" CD all the way. Two trips up the trail later, I set up and got behind a long line of gliders pushing to launch. I launched about 1:15 or so.
I got below takeoff at first but quickly climbed up and joined Ted, Jeff, Jon, and Mark coring up in a nice Thermal. Four of us left in that one and I topped out at about 7,800' or so. Now the first and most significant decision was to be made. Which way do I go?
The wind was blowing from the northwest and wanted to rake me over dinosaur country. This is a swath of heavy forests and very few LZ's for many miles. It would be the best way to get miles, but at what cost? Would I always be compromising my ability to go from street to street and trolling developing areas just to stay near a reasonable LZ?
I thought I could zipper along the river into Mass with more confidence, and since I had just done an 80 miler cross wind I was sure I could maintain a reasonable pace. I was getting good at bouncing around finding lift. I soon discovered that except for Ted flying with me till Fall Mountain, everyone else chose to go with the wind. No vario's to play with.
I got extremely high near Morningside (8500+) and started to plan the next 10 miles. I saw developing clouds all along the valley. It seemed that the streets heading downwind were originating near the river. My plan was to go to get high at these points and just speed-to-fly between them. I had just gotten my new instruments on Thursday (Braeuniger IQ Comp), and loved the McCready feature. I never knew that I was flying so fast in lift downwind before. By slowing down I was getting a much better glide between the thermals.
I stayed between 6500-9000 most of the way through New Hampshire. As I started to approach Brattleboro VT, I was down to about 6k and started to work a slow climber. Off to my right I saw what I thought was a WW Fusion with winglets working a better core. As started to drift over I saw that it was Deane Williams in his Millennium! This was great! I had wanted to hook up with him earlier in the year and well, here we were cruising through Massachusetts and coring thermals. Again I stuck with my game plan. At the altitudes I was able to fly I could always see 10-15 miles down the valley. I could pick out a developing cloud within 5 miles and usually identify an alternative close by if for some reason that one didn't pay off. Lift was moderate (3-500 fpm) and thermals were stronger and more consistent between 5-7.5K. If I wanted to make time I needed to stay in this range. If I punched through a slow climb layer (7.6-8K) it would again get strong until cloud base, which was about 9.5K.
I wanted to get over 9K so that I could veer away from the smaller airports around North Hampton, when I lost Deane. He was on a fast cruising mode and didn't slow down to squeeze the extra altitude. After I lost him I said to myself that he was right to move on. It was getting to be 4:15 and I had to make the most of the peak of day lift. I started to press on more aggressively.
I was coming up to Connecticut, and even though I was at 9.5K I wanted to go east inland so I would not be a factor with Bradley Airport. I thought about doing this back at North Hampton, figuring that I could begin to use the downwind drift to extend my flight later on in the day. Again like my pal Steve always preaches to me, by having a couple of moves planned out ahead it allowed me to think about how I would deal with these issues ahead of time. If I made one decision at a time for the immediate situation it would rush my thinking and lead to unforced errors. Flying distance in the east is more chess like then anywhere I know.
Before I crossed the MA/CT border I had to turn off my GPS to save batteries. With Hartford to the west, I looked out and could clearly see this great long body of water. Oh my God, it was the Long Island Sound! I start to tear up and became aware of the significance of the flight I was having. I knew I was over 100 and maybe approaching 110 but I was still at 7K and on a cruise to a group of fields downwind.
When I arrived at those fields I was down to 2,200'. The sky had just about completely dried up. There was only this last transparent puffy mass hanging around looking to dissipate. I went for the upwind side to see if anyone was home. "Could thermal come out and play?"
Well his mommy said yes, and I started the slowest of climbs (less then 20-30 fpm) and seemed to just hang there (no pun intended), for 15-20 minutes! As I slowly ascended, the lift got a little stronger and I drifted downwind away from the fields toward a long stretch of trees. When I got above 4500' I could see another LZ possibility downwind. As my good fortune would have it, there was another LZ after that, and then I would have to get close to 5,000 to make New London. When I got to this last LZ, I had about 2700 to go on a search for more lift but alas, that was all she wrote, so I set up and landed at approximately 7:40PM. I unhooked and turned on my GPS to mark the spot. It read 122.1 and I nearly passed out with tears streaming down my face, a happy guy indeed.
Analysis:
If you subtract the time it took for me to start the XC from the hill and the 10 minutes or so that I cored zero at the LZ looking for lift, I was on the trail for about 6 hours. That's moving rear crosswind at 20 mph. Ideally I should have started 45 minutes sooner and based on the speed that Deane was flying I think it was possible to pick up the pace another 3-5 mph.
This means this day had the potential of 155-168, and since I was on the track for New London I knew (being a Long Island boy), that New London was the closest point to cross the sound to Long Island's North and South Forks. Heck if I played my cards right I might have been sipping Pina Colada's with the Rich and Famous at South Hampton beach instead of drinking beers in a biker bar waiting for my poor wife, Anne, to retrieve me! (Thank you honey for picking me up Saturday AND after Thursday's 80 miler to the coast).
I'm a lucky guy,
Dennis
Cut this list out for your wallet
CHGA Amateur Radio List

NAME

Call Sign

Tom Condren

N1KJA

Andrew Fiertek

N1YLO

Larry Graves

N1TFZ

Kevin Gurskis

N1JPH

John Hamelin

N1QEF

Mo Hamelin

KB1DAR

Mark Hermann

N1SBJ

Dan Jester

KB1ADE

Mila Jungmann

N1YMU

Tim Locke

N1RXO

Tom Nejame

N1RXP

Pete Pfeiffer

N1LDE

Wayne Ripley

N1OTV

Sharon Roys

KB1ADW

Bob Sagherian

N1JPG

Bridget Clancy Tenan

N1TMC

Rick Tenan

N1TMA

Deane Williams

N1CEM
Classifieds
ATOS for sale - Low hours - Low price - $7900.00
Call Pete Pfeiffer – Home (860) 350-3241, Work (203) 438-6559